DEC17 Winter SOL NEST @ Fairfax Pavilion: Art – Music – Healing – Acro – Activism
First 10 people to sign up get in for $10!
Admission to the best show this winter: $20
Who can Attend?: Everybody!
INTERACTIVE ARTS : MUSIC : LAUREN ARROW : BODY HEALING : ACTIVISM : SUPPORT FOR STANDING ROCK : SACRED THEATRE : KEY TEA : NOURISHING FOOD : ACRO-YOGA
As Winter brings its deep light to our internal radiance. We gather. We gather round the hearth. Winter Sol Nest, brings together the best in music, healing, tea, nourishment, acro-yoga, activism and interactive art. Each piece of the puzzle is empowered with the vision of creating a welcoming space to nurture each other into brilliance.  Portion of the proceeds will go to support Standing Rock, Water is LIFE!
Click HERE to RSVP on Facebook
Click HERE for tickets on Eventbrite
Stellar Lineup!
Master of Ceremonies: See

See/Cristian Ellauri is a performing MC who brings love, thought, and encouragement the stage through a variety of characters. He spent four years directing Honolulu's Ong King Arts Center. "Ellauri is a theatre director and performer who merges aesthetics employing a diversity of elements in his original work." Honolulu Advertiser
Since moving to Marin he has continued to host OPEN Mic's, festivals, kids shows, live auctions, and all kinds of heart arts events. He is in service to GAIA, through art, and alchemy, to nourish a culture of freedom. www.Blessitup.com

ZOMES by Rob Bell
Rob is an Artist, Designer and Engineer.
In 2006, Rob founded Zomadic, a Design/Build studio that creates unique artifacts, furniture and structures using state of the art digital fabrication tools.
Rob's Zomadic Architecture has inspired people across the globe to think beyond typically imposed limits and to free ones imagination from constraining thoughts and previous perceptions regarding structure. http://zomadic.com/

Music:
Uplifting Folk – Lauren Arrow and the Songs
Local songstress and creator of ProcessSING, Lauren Arrow will be bringing us home with her uplifting folk/rock tunes and leading y'all in some soul-warming singalongs. Leading Women's ExpressSING groups throughout the Bay Area, her mission in life is to help women feel comfortable and safe in their voice by expressing freely. Lauren's shows are often high-energy and deeply connected, and her lyrics draw from messages to herself before she felt safe singing and her journey of creating her own path. For more information, visit LaurenArrow.com and ProcessSING.com
Ethereal Bliss –Vlad Cardema
Vlad Cardema arrives to drop spirit through the instruments he creates. Vlad weaves soulful trance into dance, music and massage.
Vlad has channeled the ancient and healing energy of the didjeridoo for over 10 years. As a ceremonial and healing performance artist, he has traveled the world sharing this gift and creating sacred space through sound vibrations. He brings a gentle presence and grounded awareness to this path. Vlad is also a didjeridoo maker, and he's a regular with Bread and Roses, bringing  music and other live performances to people in institutions isolated from society.
Storytelling Earth Magic – Ace
Original Song Wisdom – Chris Alexander
+ more….and World Drums & Freestyle Hip-Hop
Dance- Cynthia Marie Rose
Cynthia Marie Rose dances a ritual elemental invocation and brings her Bhumi Herbals. Bhumi Herbals was created in 2011, and still grows & blooms today in the beautiful hills, forests, and gardens of West Marin, CA.
Organic Herbal Remedies – Bhumi Herbals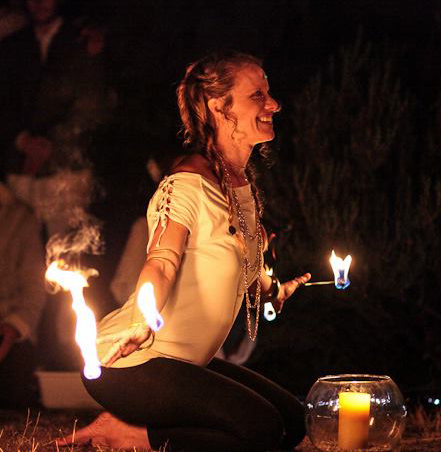 Activism: Slam Poetry
Tongo Eisen-Martin is a movement worker and educator who has organized against mass incarceration and extra-judicial killing of Black people throughout the United States. He is also a revolutionary poet who uses his craft to create liberated territory wherever he performs and teaches. His latest book of poems, titled Someone's Dead Already, has been nominated for a California Book Award.
Interactive Art: Prayer Flag Creations –
Tara Nejma creates beauty in many mediums. She graduated from Ringling College of Art and Design. She has created fantastic images fro Archipelago, Mid- Century Marin, and Krakatoa Bikes to name a few. "Constant Creation is a must ~ I find inspiration in everything. I am the destined to draw."
Body Healing: Energy Work – Cora Iuybe

Massage – Geneva, Sarah, Vlad, See
Herbalism: Plant Magic – Morgan
Acro-Yoga: Leah
Theatre: Sacred Carnival
Elemental Solstice Honoring
Warm Nourishing Locally Grown Drinks- Key Tea
This is Key Tea, the key to the path of local herbs, the musical key calling forth a tone of coming back to the earth, coming to the abundance in the garden next door, in the farm up the street, in the life of plants, close plants, Bay Area plants, plants that live and breathe, and feel the same air as us, who defend themselves against the same diseases, the same conditions, who help us thrive, and whose species is blessed by our acceptance, our not looking across oceans for leaves, or across continents for roots. Our roots are here in the Bay Area, in this chilly, bright climate, in these clay and sand soils. We help farmers with this tea, we help our health with every sip, we live our connection with every cup. Visit Key Tea!
Human Rights & Environmental Advocacy
Support for Standing Rock
We will be donating a percentage of the proceeds to the Oceti Sakowin in Standing Rock, North Dakota to support the Water Protectors against the DAPL Pipeline.
We will also have an Activism table where people will be able to write letters, petitions, etc to newspaper editors, funders of the pipeline, policy makers as well as thank-you cards to the water protecters themselves in North Dakota.
Nourishing Food: Megan McCulloch & Cherimoya 
Bold, bright and daring might be words to describe Cherimoya's style. Having collected flavors, inspiration and ideas from around the world, a fresh contemporary cuisine is born and married with a focus on local, seasonal organic foods. Pushing the boundaries of new exotic flavors is balanced with centuries-old wisdom and technique. But enough of this flowery talk, let the food speak for itself…
Eating well is a delicate balance of eating healthy, nourishing, whole foods and delighting in the culinary riches of flavor and cuisine. Gleaning the most out of both worlds, Cherimoya focuses on fresh, organic, local, seasonal and grown-with-love foods, and cooking with inspiration from a wide variety of the world's cuisines. Cooking and eating with love and passion is at the core of my beliefs.
For more information, visit Cherimoya Food.
If you would like to sign up to volunteer in exchange for admission, please contact see@blessitup.com.
Looking forward to nesting with you!
more info:
keyteacart.com
see@keyteacart.com
blessitup.com
see@blessitup.com
More Info: see@keyteacart.com